September 25, 2006:
The theme of the drama focuses on how handicap people struggle for a living. Chin Pang plays the "stupid child" character. The theme does not focus on his character nor the society abandonment, however, the story focuses more on the "fat cat" character. Everyone is familiar with the classic "Ngawang story" which was very hot in the previous decade, this new story is also similar to it. It illustrates how people with mental illnesses overcome difficulty in life. The two main characters in the story have very low IQ, way below average people. They live under the care of a wonderful mother. Together, they obtained sincere friendship and love in life. This is a very lovable drama. Everyone must give it a chance.

September 23, 2006:
pang pang's upcoming series "when fat cat meets stupid child" (a temporary translated title):
A total of 30 episodes referring to a drama of yound mentally handicap men struggle for living and dignity. A grand meeting was held on Sept 21, chinpang, To Hong, Li Jonghan.. were there. These actors revealed details about the drama and chinpang was wearing a pair of glasses. His good look comparing to Li was a huge diferrent in ratio. He is the 2nd son of the family. This soap opera will appear on televison next year on the national station broadcast. This is an extremely important move for chinpang since it could help him opens doors and seting his foot in the mainland china's market. Everyone must support.

MARCH 2ND, 2006:
"李小環與苗翠花" coming on 3/6/06 at 9:00 pm on ATV channel. Starring: Patrick Tam, Amy Kwok, Chan Chin Pang and Teresa Mak.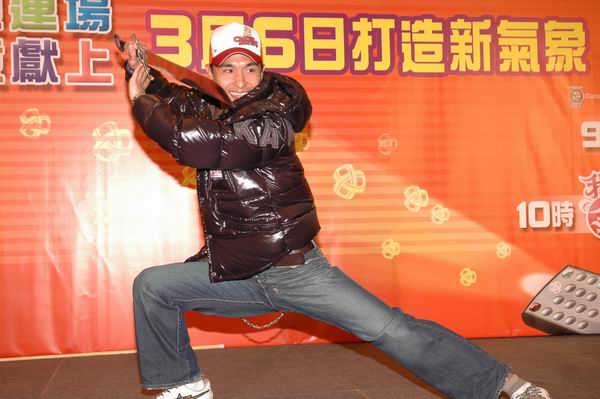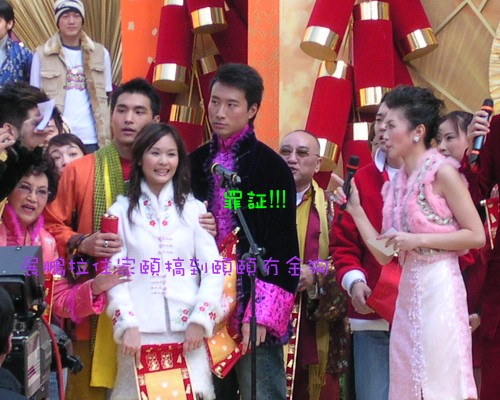 Chin Pang, Kylie Kwok, William Chow and other actors and actresses (Happy Family) celebrated their Lunar New Year with ATV broadcast station. Chin Pang brought along with him: his 12 years old-dog, WeiWei. During the show, Chin Pang, WeiWei and Kylie paired up for a game. Unfortunately, our elder brother Chin Pang did not win any prices. There was a small incident happened: WeiWei felt and stuck in a small hole on stage, but it was happy to help its master completed the game.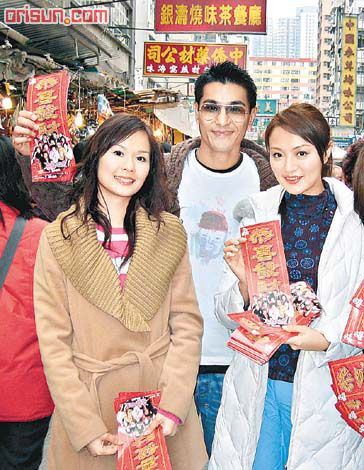 The soap opera "Happy Family's" actors and actresses arrived at Tsuen Wan, Kuangjiao to carry on their promotion. Chan Chin Pang was there along wtih other actresses such as Kylie Kwok... Moreover, Chin Pang indicated that, in new year, there will be many new and excited scenes to be film. He disclosed that, the dog year will be able to lift Hong Kong's spirit to the next level.
Ever since "Happy Family" broadcasts, it continuously receives approval from audiences of all ages. Into the new season, Happy Family's producer plans on adding more new characters. Yesterday, on January 12th, Mr. Yang Shaohung, along with assistant manufactured inspector Zheng Weiwen and supervised manufacture Mr. Xiao Chienk'eng and the whole family of "Happy Family" held a special farewell party. This series is now airing every day at 7:30 pm on Asian television telecast. The story narrates a home ownership unit with 5 people, including the old, middle-aged and young generation. Each artificial life has different values and outlook on life. This series discusses social events and world news, which respectively has the critique, respectively has the brilliance.